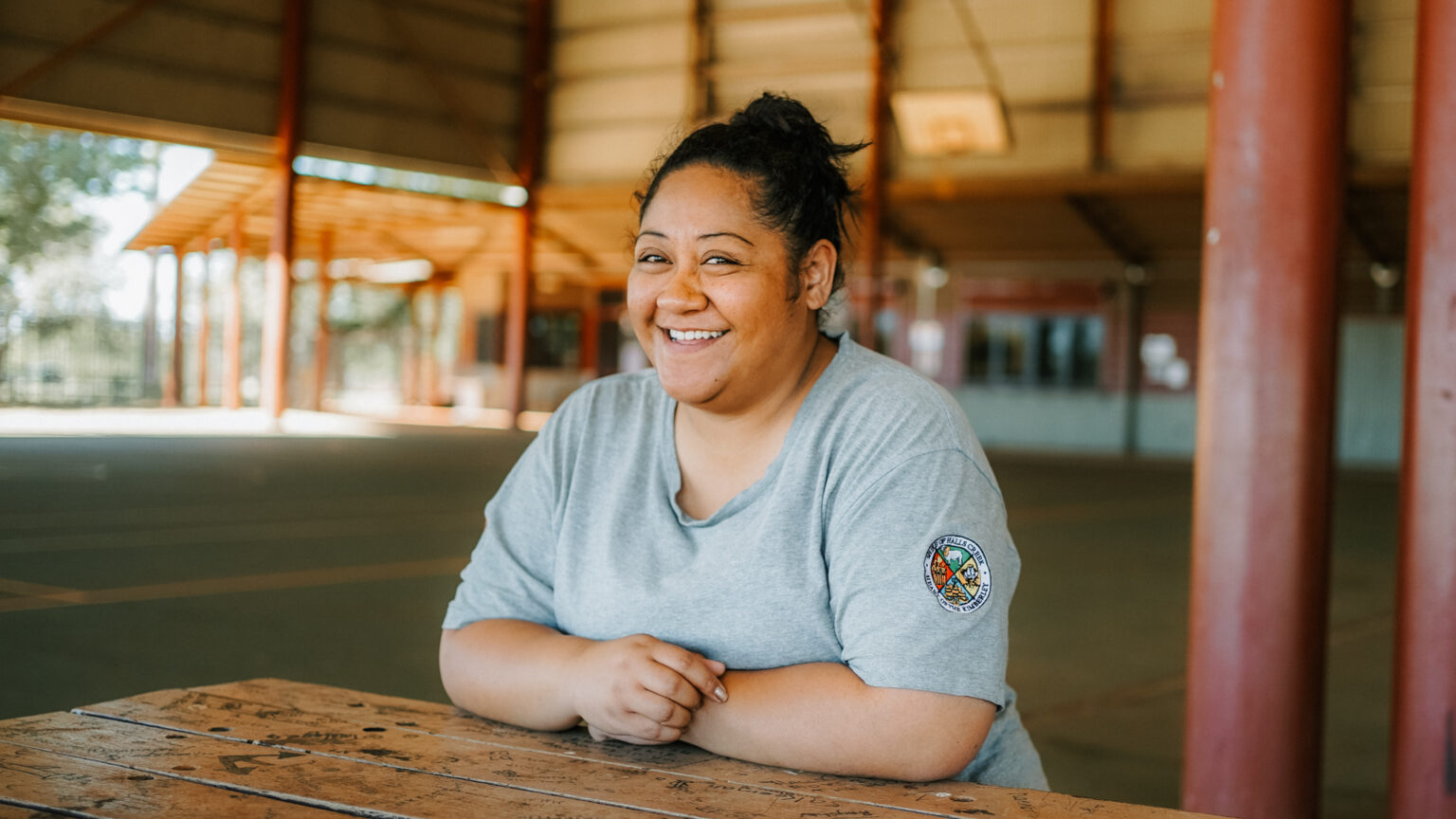 Lina Tafaoialii believes navigating Aboriginal cultures and having a big heart for the community is key to creating meaningful change.
In the heart of the Kimberley
Originally from New Zealand with Samoan heritage, Lina Tafaoailii arrived in the East Kimberley in 2017 from Sydney wanting a change. She would never imagine she would find happiness in the heart of the Kimberley helping Halls Creek's most at-risk and vulnerable kids in the Olabud Doogethu Family Support Team.
"In Sydney, I worked in early childhood development. But I wanted a change and to see what the other side of Australia would be like, so I did. The lifestyle in the East Kimberley is more of a "community", rather than Sydney where everybody is just focused on their own things," said Lina.
Lina began working in Mindibungu (Billiluna), 150km away from Halls Creek. She started working in different roles and areas – including administration, Centrelink, aged car, and municipal services. That was the foundation for Lina to operate across different systems which eventually saw her join Olabud Doogethu in 2019 as a Family Support Officer.
When Lina moved to Mindibungu (Billiluna), Lina quickly felt the stark difference between remote Aboriginal communities and her life in Sydney and experienced some culture shock.
"It's hard for remote Aboriginal communities to get the help and talent they need because they're so remote. In Sydney, you can get help, but I believe a lot of people take that ease and access to services and support for granted. It's hard to imagine living remote when you've never been. Even just contacting services on a telephone is not easy for remote communities. The struggle is definitely real."
Navigating cross-culturally
One of Lina's strengths that helped her adjust in her environment was drawing upon her Samoan heritage, identity, and connection to her culture. She believes there are similarities between Samoan and the Aboriginal cultures that she works with, particularly when it comes to Elders and being respectful.
"Our family kept our culture alive by passing down what they've been taught to us, like the role of a Samoan girl or a Samoan boy, you know? It's really based in respect, being respectful to your Elders and be mindful of those around you. I think that's really similar in Aboriginal cultures."
"For me, being respectful in Aboriginal communities is really important. As non-Aboriginal people (Kartiya), we need to respect their ways, how things are done, and adapt to that, and to make sure you are not overstepping the line with anyone or any Elders that you are working with."
Lina also believes that when it comes to change making in these communities, it's important to go follow cultural protocol and ensure the community is leading their own change.
"If they want that change in their community, I guess it's up to them with anything. Even ideas that you bring to the table, it's up to them. To me, the way I look at it, they know what's best for their community. As kartiya, we can't just come in and change things in our own way without working closely with the local community. Some kartiya don't understand that, but that's what it really comes down to."
A sobering reality
One of the most difficult challenges for Lina working with Olabud Doogethu's Family Support Team is trying to support the at-risk and vulnerable young people, when they are not even supported in their own home or family.
"It's been very, very hard to look at, or even just hear about. When you see it for yourself, it's heartbreaking. There is no support from some parents with these kids. I feel like there is no bond there, or the bond is broken. How do you repair that back together? It's just really, really sad to see. I know some families try their best, but they still can't get through. There's just lots of questions, more than answers, around that and how to help."
For Lina, one of the biggest learning lessons for her working in the East Kimberley is being able to have a big heart, but still remain realistic.
"Having a big heart for the local community is so important. You really want to do so much, but you can't, or you don't know how to. You really have to hold space, as much empathy as you can, and hold as much love for the people you work with. But you also have to be realistic with your expectations. I feel like I got attached to the people and the community. I felt it was my duty to always be on top of everything for everybody. But I think you can only do what you can at the end of the day."